Artistic Director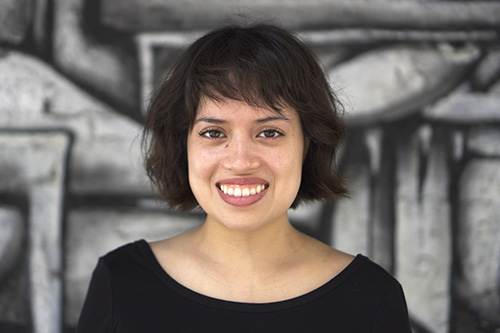 Jocelyn Reyes
Jocelyn Reyes (she/her) is a Latin American contemporary dance choreographer based in San Francisco. She holds a B.S. in Cognitive Science and a B.A. in Dance from U.C.L.A., and she is the artistic director of REYES Dance. Reyes began dancing at the age of seven, learning cumbia, merengue and salsa from her parents at family gatherings.
Reyes began her training in contemporary dance in middle school at her public performing arts school and later continued her dance education at UCLA. While still in school, Reyes began presenting her original choreography in venues around Los Angeles including Bootleg Theater, REDCAT studio, Atwater Village and Curtis Theater. After graduating in 2017, she moved to San Francisco and founded REYES Dance. Since then, she has produced two evening-length works, Accretion and MAGOS, as well as shorter works appearing on programs from the Festival of Latin American Contemporary Choreographers to the West Wave Festival and RAWdance Concept Series. In 2020, Reyes began working with film and has since created five short films which have premiered in various festivals. Last year, she curated her first annual dance film festival, Dance Thrill Fest, providing eight Bay Area emerging artists a platform to share their work.
Reyes was a 2019 Latinextensions mentee, and is currently a co-production artist at Joe Goode Annex and a RAWdance Radiate Fellow. Her latest work, LASOS, is supported by grants from the San Francisco Arts Commission and Dancers' Group.
Artist Statement
In my work, I investigate where our feelings and thoughts come from with a choreographic process that closely mirrors the scientific method: question, research, hypothesis, experiment, conclusion. To me every person is like a walking encyclopedia, a product of all their experiences with and knowledge they have absorbed about places, people and things through their basic senses. I'm interested in how people coming from such different backgrounds find connection through creating, collaborating in, and experiencing art/dance.
💌 Join our Mailing List
You'll hear about our upcoming shows, stay in-the-loop, and maybe even get discounted tickets! 😉 We promise not to spam you!